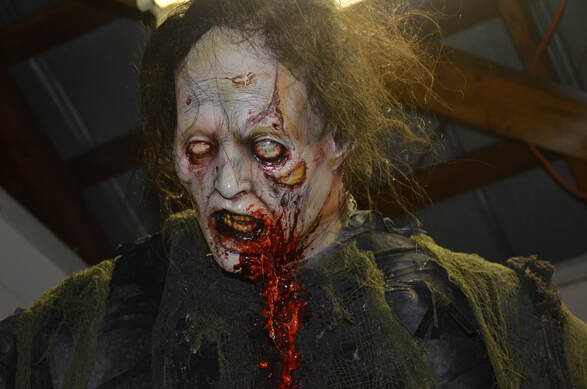 ---
Please be aware that due to our recent expansion our traffic patterns upon entry are a little different. Please use caution and follow the signs
---
SCARE FAIR 2021: UNEXPECTED ENCOUNTERS
Since the past few years have been nothing but crazy, unexpected twists and turns, Scare Fair 2021 is filled with the unknown…. This season is an eclectic mix of scares and frights. You'll never know what's coming next at Scare Fair 2021: Unexpected Encounters.
Enter the demon infested home of Snake Preacher Sean, as believers make their way through the Venom Zealots Swamp, past the Nasty Naughty Nun to the Preachers revival tent, where he waits with forked tongue to convert you through his poisonous sermon. Snakes in hand, Preacher always seems to charm the non-believer, while punishing the sinners.
Those who decide Preachers slippery church is not for them might just end up as dinner for hillbilly Curtis, his family of Hillbilly Cannibal zealots and their big old son Grendel. For those who make it out uncooked a trip through the overgrown livestock barns where buzzsaw the killer redneck and family reside. They have been in charge of rounding up volunteers for our resident genius…Mad Scientist Dr. Joe Bob. See, many of the local animals (and townsfolk) have been vanishing and we have a feeling Buzzsaw and Dr. Joe Bob might have something to do with it. Dr. Joe Bob is always busy in his laboratory of experimental oddities doing his own research and creating new curiosities, with the help of some out of this world friends he and his experimental gimps capture last year.
Finally, we are pleased to announce Jo-Jo's Psycho Klown Circus has decided to take up residence here and make themselves a permanent home at the West Alexander Fairgrounds. Our Killer Klowns are hoping to scare up laughs, the only problem is we never hear much laughter coming from the tent….a lot of screaming, sure, but no laughter. Oh well, they are working hard and we are sure Jo-Jo and their Klown Clan will have our guests dying of laughter in no time.